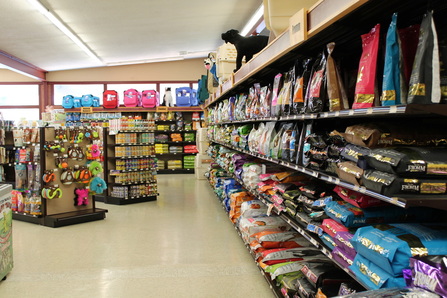 FOOD

Because we care about your pet 's nutrition.


---
We care about animal nutrition here at Fluffy and Floyd's because we understand that our pets rely on us to make good decisions about what we feed them. To that end, all the staff at Fluffy and Floyd's are trained and knowledgeable about dog and cat nutrition and about all the foods we stock. We carry only high quality foods to fit almost every nutritional need. If we don't carry the quality food your pet loves, we will be more than happy to special order it for you. We carry over 30 brands of dog and cat food and are always on the lookout for new foods that your pet will love. Below are the brands we currently carry. For most of the brand names in dry dog food that also make a canned food, rest assured we also carry it in the canned variety. The same holds true for the canned/pouch cat foods, however we have listed them separately as there are so many unique wet cat foods available to satisfy your finicky friend.

We also carry frozen food for dogs and cats.




Dog Foods

Acana
Avoderm
Blue Buffalo
Canidae
Dave's
Evangers
Firstmate
Fromm
Great Life
Instinct
Lotus
N & D
Natural Balance
Now!
Nulo
Nutrisca
Nutrisource
Nutro
Orijen
Pioneer Naturals
Precise
Precise Holistic
Primal Real Meat
Pure Vita
So Jo's
Solid Gold
Stella & Chewy's
Taste of the Wild
Tiki Dog
Waggers Tender Moist
Wellness
Wild Calling
Zignature


Frozen Dog

Green Juju
Instinct
K9 Naturals
Nature's Variety
NW Naturals
Primal
Stella & Chewy's






Cat Foods

Acana
Blue Buffalo
Canidae
Evangers
Firstmate
Fromm
Instinct (Nature's Variety)
Lotus
N & D
Natural Balance
Nature's Logic
Nature's Variety Instinct
Nutrisca
Nutrisource
Orijen
Precise
Precise Holistic
Premium Edge
Pure Vita
Solid Gold
Taste of the Wild
Wild Calling
Wilderness
Wysong



Cat Canned

Against the Grain
BFF (Best Feline Friends)
Cats in the Kitchen
Dave's
Dave's Restrictive
Evanger's
Fussy Cat
Logic
Lotus
Natural Balance
Nulo
Taste of the Wild
Tikicat
Wellness
Weruva
Wild Calling



Frozen Cat

Nature's Variety
Primal
Rad Cat